HANOI WET MARKET + COOKING CLASS
Tour Code: HMPCK01
Departure time in the morning from: 9.00 am & 11.30 pm
Departure time in the afternoon from: 16.00
Type: Group size: From 1 persons to Max of 10 People
1) Phở ( beef noodle )
2) Nem ( Spring roll)
3) Bun Cha ( Vietnamese dish of grilled pork and noodle )
4) Nộm đu đủ ( papaya salad )
5) Cà phê trứng ( Egg Coffee)
Price : 35 USD/Person /Group Tour ( You are a member of group 1 to Max of 10 People )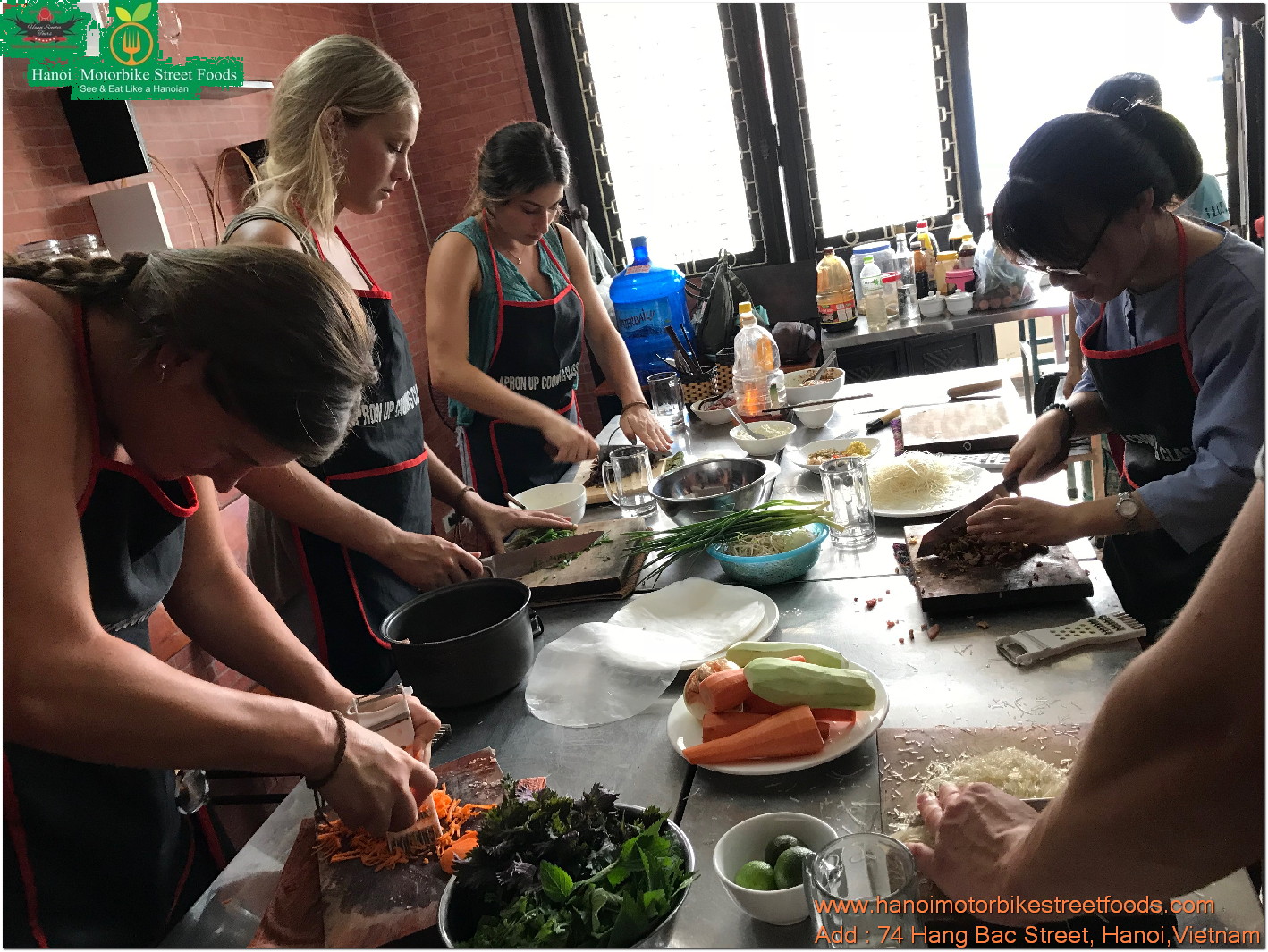 Inclusions: visit local market, English chef, food, Egg Coffee.
You are amazed by the mesmerising authentic Vietnamese food which is not the same in your home country? Take a cooking class to learn the secrets and dazzle in delight your family and friends when you come back home!Viet cusine is simple like the people and the nature here. You don't need to be a chef to make successful Viet dishes, but you do need the tips to make flavourful and proper ones.|
Apron Up Cooking Class is the place for you. Here you will get the family handed- down recipes and tips which cannot be found in books or else where. More over, you will be inspired to cooking by the enthusiastic and energetic people here.
We have classes covering the most popular and favoured Vietnamese dishes and alternatives that will adjust to all your desires
Daily Itinerary:
Our guide will pick you up in your hotel or meet up in some agreed middle point. The class lasts 3 hours, starting with the market trip. The guide will bring you to a traditional market and tell you about the main ingredients in Vietnamese cuisine, so you can have a clearer overview about Vietnamese food and an insight into Vietnamese herbs and spices ( herbs and spices are important in Asian dishes).
You will get to know some key useful VietnameseHanoi Fabulous Food and Sights Tour words to buy and bargain the necessary ingredients yourself , which is very useful for you to bargain anything you want to buy afterward in your Vietnam trip.
After buying the necessary ingredients for the class you choose, you will come back to our class kitchen and listen to the dishes' principles and general methods, then watch how the guide prepare the foods. After that you can cook yourself and enjoy your Masterpiece!!!
With Apron Up Cooking Class, you can really get your hands on the cooking. You will buy & bargain your own ingredients and make everything from the scratch. Enroll in this class, you are guaranteed to have unforgetable experience while in Vietnam, and confidient to treat your beloved family and friends with the mesmerising Viet dishes when you come back.
Cooking Demonstration
You will prepare and cook by yourself under the instruction of the chef from the beginning to the end, learning how to marinate and to spice will be the most crucial lesson. You will also enjoy decorating dishes with carrot flowers, lemon grass stems, banana leaves and curved chili.
The authentic magical sauce mixed from fish sauce, water, sugar, lime, chili, garlic and herbs is very easy to make.
Then have your meal with what-you-have-cooked dishes (big portion). The chef will taste and give a reward to the best dish.
A little Cooking Booking and all of the recipes from our Hanoi cooking class will be given to you as you leave.
Price : 35 USD/Person /Group Tour ( You are a member of group 1 to Max of 10 People ) Inclusions: visit local market, English chef, food, Egg Coffee.

TripAdvisor Traveler Rating

Based on 780 traveler reviews
TripAdvisor Ranking #3 of 231 Food & Drink in Hanoi
Recent Traveler Review:

Aug 15, 2018:

"Excellent Experience"
© 2018 TripAdvisor LLC
Awesome city tour with Hanoi Motorbike Street Foods!
I booked a half day city tour by scooter - it was raining a little so there were no other bookings - I was lucky enough to end up having a private tour with Rosie. Lucky for me the rain stopped and we had a great few hours. Best way to see Hanoi! Rosie is super-knowledgeable and shared loads of insights about the sites we visited and the local culture - and she has some mad motorbike skills! We stopped for traditional coffee and a local lunch, and packed all the important sites into 4 hours.
The whole process was great - I booked at the last minute via email and the staff were really accommodating and had grreat communication. Rosie picked me up at my accommodation a little way out of the city centre, and stopped along the way to get me a raincoat. Felt 100% safe on the scooter. Highly recommend!
Read More..